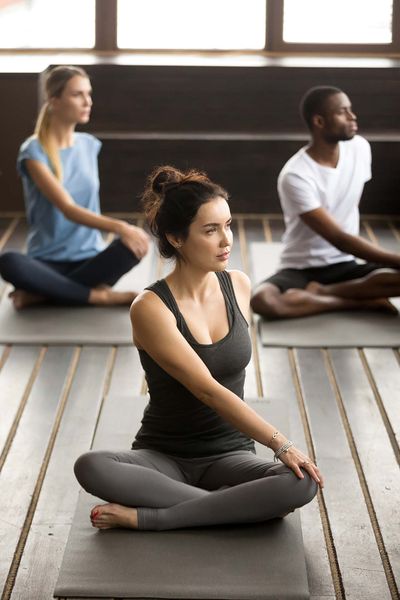 Gentle
Gentle classes are defined by their accessibility to nearly everyone. The pacing of the gentle classes is mindful and slow, allowing time to move from one posture to the next or simply stay where you are if that is what your body is asking for on a particular day. Options to go a little deeper may be offered if you're looking for a deeper stretch, but the foundation of a gentle class is to provide a safe place to cultivate inner peace. No experience is necessary for any gentle practice.
GENTLE YOGA
More warm ups are provided, sun breaths are instructed instead of sun salutations and postures are not held as long. Inversions offered are gentle in nature such as legs up the wall. Each posture is taught with modifications to accommodate any level.
Gentle/Hatha I
The foundation of this class is gentle. More options to go deeper or extend further are offered for those who wish to do so.
Restorative Deep Stretch
This practice is a combination of yin and restorative postures designed to increase mindfulness, flexibility and release blockages to the internal energy flow through the more dense, connective tissues of the body.
Gentle Yin
A quiet practice, a series of long, slow postures that targets the connective tissues of the hips, pelvis and lower spine. Poses are held from 1-5 minutes long.
Hips & Spine
This gentle class focuses specifically on releasing, relaxing and strengthening the back and hips. Most postures are done seated or lying down. Class ends in a restorative savasana. No yoga experience required.
Stress Relief
This class offers tools to reduce stress, improve health, and maximize energy by stimulating the body's natural relaxation response. Proven techniques such as deep breathing, visualization, progressive muscle relaxation, guided meditation and yoga postures are incorporated in this one-hour journey to relaxation.
Prenatal/Postnatal
Prenatal and Postnatal Yoga is much more than reducing stress and gaining strength. It is a time to intimately connect with the life growing inside. Explore the spiritual transformation of motherhood with yoga, breath work and meditation. Learn conscious relaxation techniques to restore energy and build confidence. Experience whole body breathing to connect with the body's natural rhythms. Practice vocal toning as a tool for awareness. Learn yoga postures to integrate the mind with the body's rapid changes. Appropriate for women who are pregnant, planning to become pregnant and those who just had a baby.
Combination classes are taught to the gentler class level with the next level modifications.